919NO.4.5A High pressure Suction fan
919NO.4.5A High pressure Suction fan
9-19 Series Industrial High pressure Centrifugal fan
1. The air blower's use
the 9-19th, 9-26 high pressure centrifugal fan, uses in forging the stove and the high pressure forced draft generally, may also use in transporting the material, the air and does not have the corrosion, the spontaneous combustion, not explosive, not to be easy to volatilize, not to contain gas of the adhesive. The medium temperature does not surpass generally 50°C, highest does not surpass 80°C, in the medium contains the dust and the flinty particles is not bigger than 150mg/m3.
2. The air blower's pattern
1st, this air blower is the single suction enters, usually has No 4, 4.5, 5, 5.6, 6.3, 7.1, 8, 9, 10, 11.2, 12.5, 14, 16, altogether 13 serial numbers
2nd, the air blower usually makes the dextrorotation and the laevo-rotatory two patterns.
3rd,The air blower's exit position indicated by cabinet's export angle, "left", "right" the air blower cabinet makes 0 degree, 45 degree, 90 degree, 135 degree, 180 degree, 225 degrees.
3. The air blower's structure
The air blower mainly composed .by the impeller, the cabinet, the inlet, the support and so on
(1) Impeller: 9-19 air blowers are 12 pieces of leaf blades, 9-26 air blowers are 16 pieces of leaf blades, it all belongs to forward curved. The impeller diffuser outflow boundary maximum circumference link speed do not surpass 140m/s, after the impeller forming, after static, the transient equilibrium adjusts, therefore revolves steadily.
(2) Cabinet: Welds the whole worm type shells with the ordinary steel plate.
(3) Inlet: Makes the restraining type streamline form the overall construction, fixes it with the bolt on the lap.
(4) Transmission group: composed by the main axle, the bearing box, the shaft coupling and so on. The main axle is made by the fine steel, bearing box overall construction. It uses the rolling bearing, the rolling bearing, with grease lubrication.
4.Outline dimensions: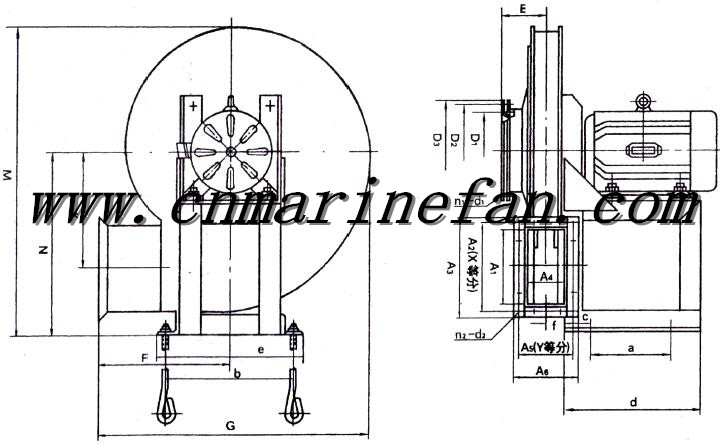 Please contact us and get detailed Technical parameters and Drawings.

We could Design and Produce the Marine fan,Industrial Fan,and Other Ventilation Equipment according to your detailed requirement !