HTF-I NO.15 Industrial high temperature smoke exhaust blower
HTF-I- NO.15 Industrial high temperature smoke exhaust blower
HTF-I TYPE INDUSTRIAL SINGLE SPEED HIGH TEMERATURE SMOKE EXHAUST FAN
1.Uses:
HTF-I-15 Industrial high temperature smoke exhaust blower are widely used High 140 oven, underground garage, tunnels, and so on. According to the different requirements of senior civil buildings, a single-speed drive in the form of one or more speed-driven, so as to achieve a machine using (under normal circumstances exhaust ventilation or fire when the high temperature exhaust gas) purposes.
2.Features:
2.1 Excellent high temperature properties. Fan Test with GBJ45-82 standard fire test standard for the establishment of the internal control standards higher than the guarantee system, under the conditions of high temperature 400 ℃ continuous operation can be more than 120 minutes, 100 ℃ for 20 hours of continuous operation can be no more than damage .
2.2 Small footprint, and ease of installation. The basic pattern for the fan axial flow fan, and can be directly connected with Hair Dryers, and the walls can be installed connections, the walls are installed and the installation of two vertical installation, and small footprint.
3. Outline dimensions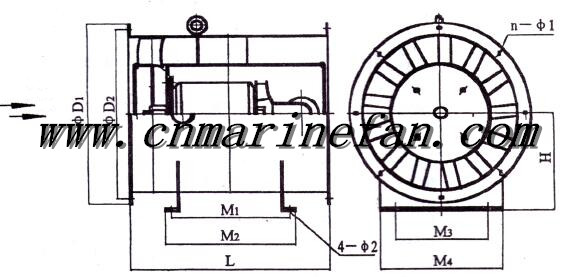 Please contact us and get detailed Technical parameters and Drawings.
We could Design and Produce the Marine fan,Industrial Fan,and Other Ventilation Equipment according to your detailed requirement !