CZF30A Marine Axial Flow Fan for ship use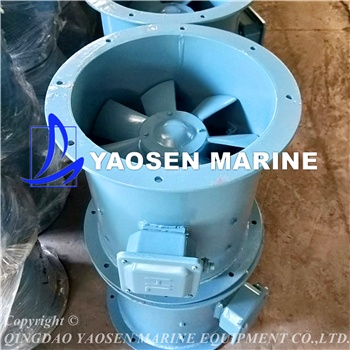 CZF Series Marine Centrifugal blower fan


1.General


CZF series marine axial fans (simply the fans) are new-type & energy save, low-noise fans. They are suitable for every cabin air ventilating and exchanging on ships. They are also applicable in other places that suit.

2.Features

CZF fans are characterized by their extreme compact structure, small size, light weight, less power consumption, smooth and reliable in operation, being suitable for reversing operating and excellent resistance to a certain degree shock and vibration.

3.Structure

  The impeller is made of anticorrosive case aluminum alloy, it is dynamically shaped and carefully balanced to ensure the fan having reliable anticorrosive property and operating smoothly.
  The fan casing, being welding construction, is made of steel plate with flanges for connection with duct at both sides by bolts, and the surface is fully treated by anticorrosive painting. As desired, the casing can either be made into an integral one or an open type along the axial direction, the impeller and the motor are fixed on the movable half of the casing so as to bring convenience for on the-spot repair and the replacement of its spare parts.
   The fan is manufactured with a built-in casing motor structure. The impeller is directly mounted on the motor shaft.
   Taking a front view from the motor side, the impeller should be turning clockwise. In practice, it can be turning counter clockwise too. Such being the case, the reversing characteristic are capable of no less than 60 percent of normal rating.
   The fan can be matched with AC380V, 50Hz or 440V, 60Hz marine or navy motor.
4.Model explanation

5.Outline dimensions: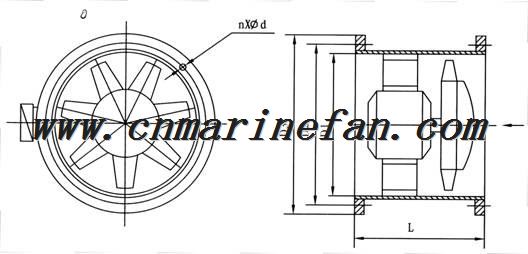 Please contact us and get detailed Technical parameters and Drawings.


We could Design and Produce the Marine fan,Industrial Fan,and Other Ventilation Equipment according to your detailed requirement !