CWZ224D Marine small exhaust fan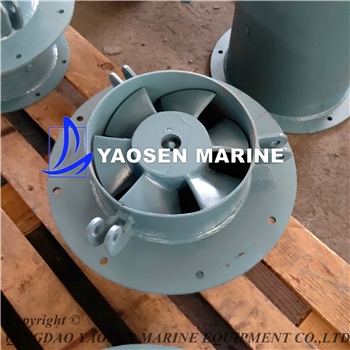 CWZ Series Marine or Navy Small-sized Axial Fans
1.General


CWZ series marine or navy small-sized axial fans are suitable for, ventilation of kitchen ,lavatory, bulkhead ,the public places ,the meeting room etc, in the naval and merchant shops. They are also applicable in other places that suit.

2.Features


The fans are designed according to arbiter votes flow method. We choose the most reasonable votes flow coefficient on the vanes of the fans, specification ,distribute every sectional characteristic speed & length of the vanes ,the fans have low-noise, small size, light-weight ,stable performance , etc.
In the course of designing & manufacturing, we had thought fully of the marine special conditions, the impellers are strictly made by dynamic balance adjustment & over speed test. Therefore, the fans also have the features of good-anticorrosion, anti-swing, vibration resistance ,shock resistance, stable running and safety reliable.
The fans can be used with 380V/220V.50Hz or 440V/220V,60Hz.

3.Structure


The fans can be made into two structure types, type Ⅰ(tube type),type Ⅱ(porthole type):
Ⅰ type-tube type for ventilation of short tubes or fixed on the bulkhead.
Ⅱ typefixed on porthole .It can be fixed on the porthole or the bulkhead. Since it's waterproof it can be easily opened or closed, keep rain or sea water out.
Impeller is made of cast aluminum alloy, casing is welded of steel sheet.

4..Model explanation


1.The hard particulate matter in the combustible and explosive gas mixture is not allowed to be more than 150mg/ m3,and its maximum diameter cannot exceed to 2 mm.
2.On the duct intake side, provide a protective brass wire nets to ensure the prevention of foreign matter and electrostatic sparks from invasion, so as to insure the explosion-proof fan operating safely.
3.When a power cable is inserted in the terminal box and fixed there ,the terminal box itself and its approaching device must be sealed tightly with the cable, and no permeation of rain water into the terminal box is allowable.
4.Be sure to earth the cable, especially the flameproof motor.
5.Explosion-proof fan installation should be carried out with much care in connecting with the duct so as not to allow any casing distortion to take place owing to forceful tightening .Furthermore ,it is not allowed to add the weight of pipes to fans by forceful.
6.The motor power wied by fans refers to mechanical losses and its own safe coefficient under given working conditions .Be sure to adjust the air rate and strictly control motor's electrical current .It is forbidden to exceed motor's electrical correct rating.
7.The cable entry thread of the flameproof motors are shown in table.
8.Our products can be exchanged, returned and repaired if found its quality unsatisfactory within 18 months from the date of exfactory.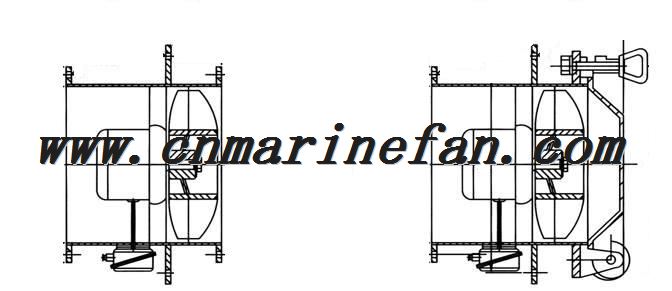 Please contact us and get detailed Technical parameters and Drawings.
We could Design and Produce the Marine fan,Industrial Fan,and Other Ventilation Equipment according to your detailed requirement!